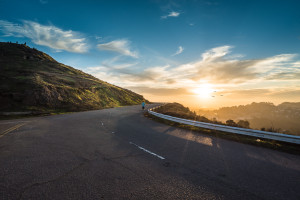 As I mentioned in my last post,
technology hasn't quite figured out how to help make people healthier yet
. It seems like everyone is approaching it from one of two directions: on one side, activity trackers are providing mountains of information, but no without providing guidance on what you're supposed to do with it, on the other side, specific services (running apps, weight loss apps, etc) are giving you plans to do one thing but ignoring the wealth of information available. So your marathon-training app might be doing a good job of helping run faster, but it's probably not tracking your meals or reducing your run when you miss the bus and walk an extra two miles to work.
Before we tackle the big problem, first I'd like to talk about how I was able to become healthier without using any fitness tracking or even owning a scale.
My goals were simply "Make it through the week" or "make it through the month." Weight loss is not directly controllable by me—but sticking to my diet or work-out routine is.
I kept set of "before" pictures which I looked at every week—one of my face and one of me standing sideways in front of a mirror. This was way more effective than a weigh-in—sometimes my weight didn't go down, and eventually my weight actually started going up every week as I gained muscle. But comparing myself to the pictures were infinitely more rewarding than seeing a number.
I found a diet and workout routine that was easy to follow. But more than that, my focus was simply on feeling good. So if I wasn't able to run faster one week, I just repeated my last speed instead of risking an injury. If I decided that my dinner would taste better with a little cheese, I added it. No stress.
These three things helped me get healthier without ever dealing with a scale, loss of motivation due to perceived lack of progress, or unhealthy eating patterns in an effort to "make-up" for a bad day.
The important thing to note here is that my goals were things that were 100% in my power, progress was shown to me in a way that provided the best reward (I looked better), and the numbers of the whole thing were all kept out of sight.
And it's here where technology needs to live if it wants to make a tangible difference. It's great that we can now track hundreds of different metrics, from sleep, to calories, to heart-rate, to steps. But these numbers are essentially meaningless to the average consumer. Instead of making users do the heavy-lifting, we need those numbers to be reviewed under the hood, while users only get simple, easy-to-follow instructions or prompts on the screen.
The focus needs to be less on "accomplish this and then you're done"—that doesn't benefit users or developers, because people will bail once they reach their goal.
So here's my idea for a platform:
Draw on the many rich data sources available. Heart-rate, sleep averages, steps, calories and the like are great, but we need to go deeper. Look at the user's calendar—are they scheduled to play in the company softball game next month? Is there a two month trip to Paris booked? Look at the user's average arrival and departure times from their home. Do they go to a lot of bars? There's so much out there to draw from. Use this information, make inferences and alter the approach.
Learn a user's behavior and routine, rather than just pushing a stale "one-size-fits-all system. Much like the excellent "Nest" Thermostat, first attempt to understand what I'm up to before suggesting radical changes.
The goal should be "Feel Better, Live Better." Not everyone is looking to run a 5 minute mile, climb mount everest or flaunt 2% body fat. Focus should be on finding a fun, varying routine for diet and fitness that works with a user's schedule and gradually helps them alter their lives for the better.
Only set goals that can be met. For example "go to the gym three times this week."
Allow for users to slide. Falling off the wagon of your diet or work-out routine is normal and, to a degree, perfectly fine. What we should try to avoid, however, is allowing one missed day or fatty meal to turn into a spiral.
Think big. This service isn't strictly a diet app. It's no simply a work-out app. It's a learning, personal, full-time trainer, chef, and life-coach.
The pieces are nearly all there. I think we'll see this service or something similar, that alters the entire landscape soon. In the meantime though, I wish that technology companies would stop insisting on running down a dead-end.